Feedback
Wir sind unerbittlich in unserer Vision, aber flexibel im Detail – schließlich sind keine zwei Agenturen gleich!
Das sagen Agenten Über Tagmin…
WE LOVE Tagmin!
Thanks for simplifying our days.
Brown, Simcocks & Andrews (PMA)
The whole job in one's pocket.
Well done! We love it!
agenturFILMGOLD, Hamburg
Tagmin has been fantastic for us here at Troika.
Troika (PMA)
The next generation of agent software. A fantastic addition to our business.
Bloomfields Welch Management (PMA)
Well f%!k my old boots – what doesn't it do? Tagmin has changed our lives.
Esta Charkham Associates (PMA)
Tagmin is far superior to the other systems we have previously used.
Denton Brierley (PMA)
It's an integral part of our business, and we can't imagine life without it!
Tildsley France Associates
One hesitation in recommending it – I don't want others to have such a good system!
Shane Collins Associates (PMA)
Tagmin has definitely increased productivity in the office.
InterTalent Rights Group (PMA)
Tagmin delivers what the industry had been crying out for.
Paling and Jenkins (PMA)
One of the best investments we've made as an agency.
Jeremy Brook Limited (PMA)
A game changer in making an agent's life easier. We literally couldn't live without it!
33 (PMA)
It does everything but make the tea, though they are working to fix that!
Tim Scott Personal Management
Seriously… Is there anything Tagmin can not do?
34 Talent Group
It's has literally turned our office around… we could not live without it.
Abacus Agency & ABA Management
Tagmin has made a significant improvement to how we run the office.
Amber Personal Management
We couldn't live without Tagmin… a must for all Agents.
Eadon Management
We love Tagmin. The clients love the calendar section – a really superior product.
Rebecca Singer Management
The support, updates & client input tools are unique & we wouldn't be without it!
David Daly Associates
The best customer support EVER! Kicking myself for not switching sooner!
Daisy & Dukes
Tagmin has been a godsend. We wouldn't hesitate in recommending it.
Williamson & Holmes (PMA)
From day one Tagmin has been easily-accessible, efficient and cost-effective.
Angel & Francis (PMA)
It's a bloomin marvel quite frankly!
Belfield and Ward (PMA)
Intuitive and responsive… an invaluable time-saving addition for our busy team.
Global Artists (PMA)
We cannot recommend Tagmin highly enough! Modern, streamlined & user-friendly
Revolution Talent (PMA)
Tagmin works very well with Spotlight, integrating the two worlds.
Hatton McEwan Penford (PMA)
Fantastic… It's clear they have a very good understanding of the industry.
Gardner Herrity (PMA)
Extremely helpful, especially with its link to Spotlight.
The Markham Agency (PMA)
It's made such a difference to our business. Customer support is brilliant too!
Marcus & McCrimmon (PMA)
We are very happy with Tagmin. What a difference to our previous system!
Chris Davis Management (PMA)
We are really happy we made the switch. It's definitely made our life easier.
Sharkey & Co (PMA)
It's wonderful – so easy to use and the team are always there to help.
McLean-Williams Ltd (PMA)
They're very good at listening to the needs of agents.
Grantham Hazeldine (PMA)
Tagmin has become a 'valued member' of the agency! Highly recommend.
Payne Management
Tagmin has just made our job so much easier!
A & J Management
Essential for any busy agency – customer Service is A*
Goldmans Management
Tagmin's proved invaluable, all the features I'd hoped for, it's like they read my mind!
Paul Byram Associates (PMA)
Very easy to use for us non-tech types. Fantastic support.
Mrs Jordan Associates (PMA)
Big fans of Tagmin!
Nancy Hudson Associates (PMA)
Tagmin has saved so much time and effort in the office. Thank you!
Boland & Reeve (PMA)
It's everything we've always needed but didn't know we did!
Jane Hollowood Associates
User friendly, slick and innovative.
Keddie Scott Associates (PMA)
Invaluable… We could not ask for a better service provider. Thank you!
BBA (PMA)
It's so quick and easy… We would certainly recommend using Tagmin.
Cooper Searle Personal Management
Could not recommend it more!
Piers Nimmo Management
We absolutely love it and we can't imagine what we would do without it!
Mouthpiece Management
Easy and efficient and they regularly roll out new features.
Olivia Bell Management (PMA)
Approachable, friendly and swift support… invaluable.
Shepperd-Fox (PMA)
We're loving Tagmin! It's making life much easier!
Gielgud Management (PMA)
A payrun that could take two days is now taking just two hours!
Philippa Howell Personal Management
Cost effective and time saving. Comprehensive yet simple to use.
Mia Thomson Associates (PMA)
Easy to use – its great to have everything in one place!
Steve Nealon Associates (PMA)
A great service, we don't know how we'd manage without Tagmin!
B A M Associates
Was ist Tagmin?
Tagmin ist das kostengünstigste und vollständigste Client-Management-System für Agenturen.
In Großbritannien wird Tagmin häufiger als jede andere Agentur-Software benutzt. Tagmin ist umfassend und dennoch einfach zu bedienen, und wird täglich für die Anforderungen Agenturen aller Größen weiterentwickelt.
Tagmin wird ebenfalls in Europa, den USA und Australien verwendet.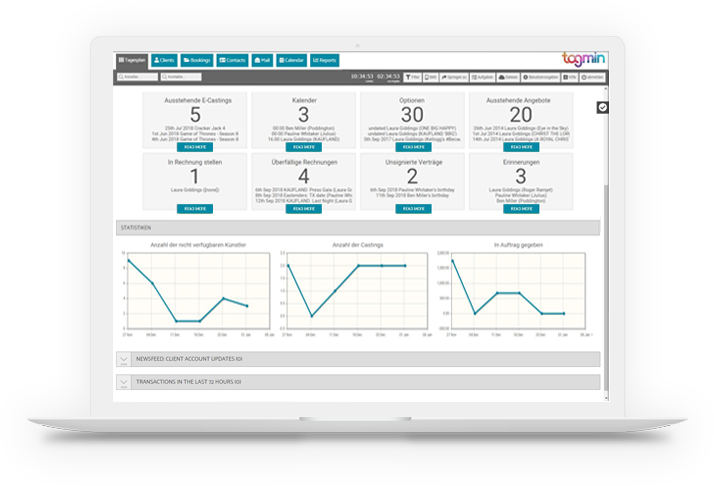 Referenzen
"Wir freuen uns sehr über die Zusammenarbeit mit tagmin – dem Marktführer für Agentur-Software. Ein wirklich tolles Produkt aus UK ist somit jetzt auch in Deutsch erhältlich. tagmin ist die perfekte Schnittstelle von Datenpräsentation und Agenturverwaltung. Nahtlos und schnell. Darüber hinaus ist die Kooperation mit tagmin auch Ausdruck der internationalen Ausrichtung von filmmakers, die sich in Kürze in einer multilingualen Version der Datenbank widerspiegeln wird."
Clemens Erbach, Filmmakers
"Tagmin ist die langjährig in England etabliert Agentur-Software, die aus gutem Grund zum Marktführer wurde. Erfreulicherweise ist sie nun auch -unserem Markt angepasst- auf deutsch erhältlich.
Das System ist sehr gut durchdacht, wird laufend entsprechend der Marktgegebenheiten verfeinert und optimiert, ist mit ausgewählten Schauspieler-Datenbanken verknüpft, und läßt alle Projekte, Kontakte und Informationen hervorragend verwalten sowie alle Projektstadien gut überblicken. Ein Instrument, das aus unserer Sicht ein Muß ist für jede Agentur."
Spielkind GmbH

Einzigartige Funktionen und ein ausgezeichnetes Preis-Leistungs-Verhältnis
Viele Agenten schätzen Tagmin wie eine/n weitere/n Mitarbeiter/in des Teams – damit zeigt das Programm seinen wahren Wert.
Wir berechnen Lizenzen pro Benutzer. Für zusätzliche Benutzerlizenzen gibt es einen Preisnachlass. Damit greifen wir Ihnen bei dem Wachstum Ihres Unternehmens unter die Arme.
Zusätzlich bieten wir auch weiter vergünstigte 'Lite'-Lizenzen für Teilzeitkräfte an.
Neukunden, die von einem anderen System umsteigen, sparen so Geld und können sich gleichzeitig an vielen neuen Funktionen erfreuen.
Wir entwickeln das Programm täglich weiter und meistern gleichzeitig die neuesten Herausforderungen der Branche mit schnellen Lösungen.
Alle Kunden haben Zugriff auf die Updates, sobald sie live geschaltet sind.
Überblick und Verwaltung mit Leichtigkeit
Künstler/innen

Verfügbarkeit

Filter- und Suchfunktionen

Vorschläge

Zeitliche Anfragen

Drehbücher

Castings

Recalls

E-Castings

Optionen

Angebote

Jobs

Verträge

Rechnungen

Zahlungen

Berichte

Kontakte

E-Mail

SMS

Kalender

Aufgaben
Was ist inbegriffen
Kostenloses Training, wenn Sie auf Tagmin umsteigen

Sicherer Zugang über PC oder Mac

Kostenlose App Version für Android und iPhone

Kostenlose Tagminkonten für Ihre Künstler, worüber Profile und Verfügbarkeit aktualisiert und E-Castings hochgeladen werden können

Integriertes E-Mail-System

Kostenloser Kundensupport über E-Mail und Telefon (aus GB)

Zwei Datensicherungen pro Tag

Kostenlose Software-Updates und neue Funktionen
Benutzer-Info
First User: Der einfache Benutzerzugang ist ein 'Superuser' – Dieser Benutzer kann den Zugang weiterer Standard-Benutzer regeln. Weitere Benutzer können ebenfalls 'Superuser' sein. Mehrere Personen können sich bei einem Benutzerzugang einloggen, jedoch nicht zeitgleich.
Additional users: Für alle weiteren Benutzerzugänge bieten wir einen Rabatt und unterstützen Sie bei dem Wachstum Ihres Unternehmens. Wenn Sie weitere Benutzer innerhalb ihres Vertragsjahres hinzufügen möchten, passen wir den Preis proportional an.
Lite users: Ein 'Lite'-Benutzer hat denselben Zugriff auf sämtliche Funktionen von Tagmin, aber nur für 100 Tage pro Jahr. Einen Lite-Zugang gibt es nur neben einem First User.

Add-ons
Weitere Tools zur Ergänzung der Kernfunktionen von Tagmin

TagTapes
Konvertiert, komprimiert, betitelt, verknüft und organisiert Ihre E-Castings

TagVoice
Spezielle Tools für Agenturen, die Sprecher repräsentieren

TagProjects
Ein spezielles System zum Verwalten von Projekten
TagTexts
Schicken Sie Ihren Künstlern direkt vom PC eine SMS

TagWeb
Aktualisiert sämtliche Künstler-Informationen auf Ihrer Homepage

TagExtras
Spezielle Tools für Agenturen, die Darstellern, Statisten und Extras repräsentieren